About Save A Purrfect Cat Rescue
Save A Purrfect Cat Rescue is 501(c)3 no-kill organization and an adoption network committed to finding permanent homes for cats and kittens. Since we do not have a shelter, we rely on a network of volunteer foster homes to care for the cats until adopted. Our cats include strays and abandoned/abused cats from other shelters that would have otherwise been euthanized. All of our cats are fostered in homes and receive medical care in the form of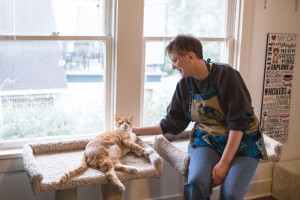 vaccinations, testing, and spay/neuter services prior to adopting our animals into responsible loving, forever homes.
All of our cats and kittens receive a full health screen which includes: flea medication, deworming, ear mite treatment, age appropriate vaccinations, combo testing for Feline FIV/Leukemia, and spaying/neutering prior to adoption. To adopt one of our cats, you must fill out our adoption application and be approved by one of our adoption counselors. Applications are available by e-mail; simply request one by contacting us at SaveACat@comcast.net. The adoption fee is $100, however we reserve the right to charge an additional fee for purebreds or any cat we deem necessary.
Like many no-kill organizations, Save A Purrfect Cat Rescue is foster based. What that means is that we do not have a shelter where we take in cats, but that we depend on people to foster cats while we help them find a new home. On occasion, we can find volunteers to foster a cat, but most of the time we depend on the people who have found or want to rehome a cat to care for them until they find a permanent home.  In addition, if your cat is returned for some reason, we would ask you to foster the cat again. Please remember that while sometimes adoptions happen quickly, that isn't always the case. So if you are willing to foster, you should be prepared for a long-term commitment.
Showing your cat with SAPCR.  If you are willing to foster your cat or kitten, then our process is as follows: you send us some photos and a description of your cat, we meet her or him for an assessment, and if the cat is deemed adoptable, as most cats are, we use our network of contacts, Petfinder listings, and showing at our Adoption Center on weekends to find the cat a permanent home.
Before a cat can be adopted, it must be inside only and fully vetted. That means it needs to be combo tested (tested for FIV and Feline Leukemia), given an FVRCP vaccination (young kittens need to have two before being shown), given a rabies vaccination (if old enough), neutered or spayed (again, if old enough), dewormed, and treated for fleas.
SAPCR can help with the FVRCP and deworming, if need be, but the rabies and combo test would have to be taken care of by a veterinarian. If you do not have a veterinarian, we can provide a list of recommended and low cost vets.
If any veterinary care has already been given, we would need records showing the treatment received. That would let us know if there is anything that remains to be done. And please note that if a combo test is given, we need a document that shows not just that it was done, but what the results were. Rescuing cats is work, and we're glad you've taken the first steps toward making sure your cat is well cared for. It can seem overwhelming at first, but with a little help, which we do our best to provide, your cat can find a new home.
Considering becoming a foster parent?  Interested in fostering a cat or kitten in need? If you have an interest in becoming a foster through our group, please contact us. There are so many cats that need rescuing and care. If you would like to find out more about fostering, please e-mail or call us today!
Interested in volunteering?  We are always looking for people to be a part of our organization! If you are interested in volunteering at our adoption centers or helping in other ways, please contact us.